Mandatory Kit - UTA
This kit list is from our 2023 event - you will be notified of any changes to this list ahead of the event you have signed up for.
​
SUBJECT TO SMALL CHANGES DEPENDING ON WEATHER CONDITIONS.
​
Carrying this kit is a requirement of the Event and forms part of our planning in ensuring reasonable measures are put in place to keep you safe should anything go wrong during this adventurous endeavour. We ask you not to take short cuts or 'second guess' our advice. For instance, the carrying of waterproofs is required even if rain is not forecast as a means to prevent cooling down too fast if you get injured in a location that is very exposed to wind – remember you may be very tired and sweaty, and who says the forecast is always right?
Mandatory Kit
Random kit checks will be carried out on the morning of the race and at Pit Stops, if you are missing a mandatory item you will not be allowed to start or continue past the Pit Stop you have been stopped at.
Collapsible content
Small Rucksack or BumBag

Bum Bag or Ultra-Running Pocket Vest or other appropriate method of carrying your kit.
Satellite Tracker

Given to you at tracker collection. This should be put in the lid/outer pocket of your rucksack. Remember this must be returned at the end of the event.
Trail running shoes

Running shoes with some grip
Hydration bladder and/or water bottle

Hydration bladder and/or water bottle – minimum 2 Litres capacity.
Basic First Aid Kit

containing at least: a triangular or conformable roller bandage,
assorted adhesive dressings including at least one 100mm x 100mm,
Separate sterile absorbent material (e.g. gauze or gauze bandage),
paracetamol / pain killer.
Food

Min 400kcal (about 4 gels): Always plan to have excess. This is a MINIMUM and our meaning here is that you have this fuel on you as a minimum AT ALL TIMES. I.e. You always have 4 gels (or equivalent) as Emergency Supplies. Please take enough food to be out in the hills, possibly in poor conditions, for up to 8 hours. Ensure you have enough salt and calories in your food.
Waterproof jacket

With TAPED or WELDED SEAMS as a minimum standard.
Waterproof trousers

With TAPED or WELDED SEAMS as a minimum standard.
Hat

Suitable to the conditions (a Rat Rag is OK)
Gloves

Lightweight running gloves are OK.
Survival bag (emergency bivvy)

NOT a blanket: Essential for unplanned stops.

Emergency bivvies are small, lightweight shelters that can provide crucial protection in an emergency situation. Here are some of the reasons why they are so important in remote areas:

    Protection from the elements: One of the most important functions of an emergency bivvy is to protect you from extreme weather conditions. In remote areas, the weather can change rapidly and unexpectedly, leaving you exposed to the elements. An emergency bivvy can provide insulation and protection from wind, rain, snow, and even extreme heat.
    Increases survival chances: In an emergency situation, every minute counts. Having an emergency bivvy can increase your chances of survival by providing shelter while you wait for help to arrive. If you get lost or injured in a remote area, an emergency bivvy can keep you warm and dry until rescue teams can reach you.
    Lightweight and portable: Emergency bivvies are designed to be lightweight and portable, making them easy to carry with you on hikes or camping trips. They take up very little space in your backpack and can be set up quickly when needed.
    Cost-effective: Emergency bivvies are a cost-effective alternative to more expensive shelter options. They are also reusable and can last for several uses, making them a wise investment for any outdoor enthusiast.
    Versatile: Emergency bivvies can be used in a variety of situations. Whether you are stranded in a remote area, caught in a storm, or need to stay warm while waiting for rescue, an emergency bivvy can provide the shelter you need to stay safe.

In conclusion, an emergency bivvy is an essential piece of gear for anyone who spends time in remote areas. They are lightweight, portable, and versatile, making them an important addition to any outdoor adventurer's pack. By being prepared with an emergency bivvy, you can enjoy the beauty of the great outdoors while also staying safe in case of an emergency.
Basic First Aid Kit

Containing at least:

– A conformable roller bandage.
– Assorted adhesive dressings.
– Separate sterile absorbent material
(e.g. gauze or gauze bandage) suitable for compressing bleeding wounds
Whistle

Effective for getting attention in an emergency.
Fully charged mobile phone

With protection from water
Full length leg cover

Running tights are a good lightweight option – it's the unplanned stops that you might need them for. This is additional to the waterproof Trousers
Insulated jacket/layer

Additional upper body thermal layer: an insulated jacket, baselayer or fleece are all good options – again for the unplanned stops. This is additional to the waterproof Jacket.
Event Day Information Card

Supplied in your race pack
Reusable Cup

suitable for Hot Drinks – Must be rigid enough to support itself when full please!
Collapsible content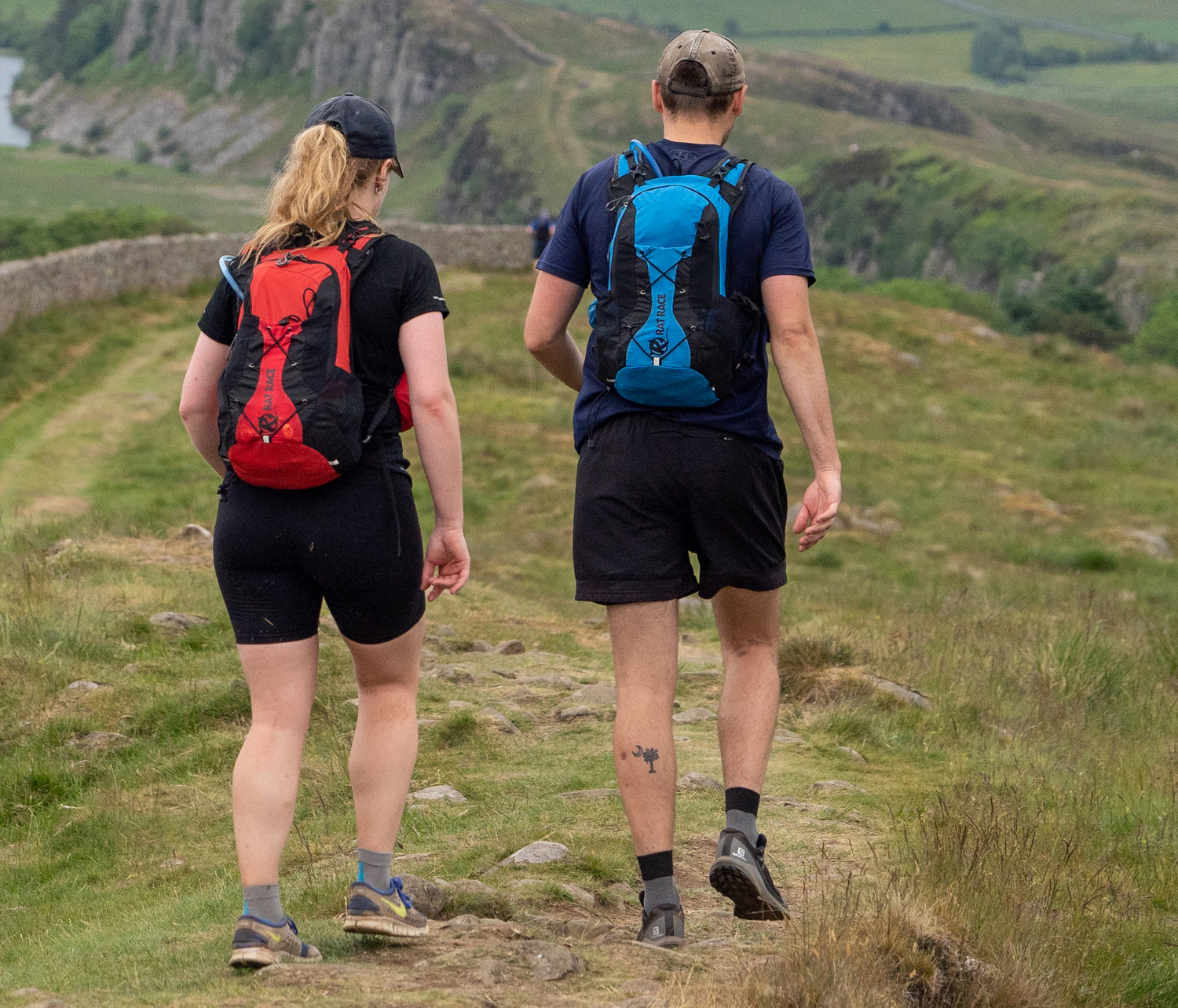 Dry Bag/Liner

A quality roll top type rucksack/bag liner is good for keeping your kit dry.
Technical Tee/Baselayer
Extra gloves, socks and hat

In foul weather, taking additional gloves, socks and a hat can be a help.
Sunscreen
Sunglasses
Some form of identification
IF THERE ARE ANY CHANGES FOR THE EVENT THIS WILL BE COMMUNICATED IN THE PRE-EVENT DOCUMENTATION
​
The emergency kit is important for several reasons:

- It helps you to help yourself should you have a problem.
- We are in this together and you may need to assist others if they have a problem.
- In the case of an incident our Race Control and Medical teams will make decisions based on the knowledge that you all have this equipment.
- Carrying the kit is a requirement for everyone and hence provides an equal and fair challenge.
- It is part of our risk assessment process that is shared with insurers. Your insurance may be invalid if you do not follow our advice.
- If your lack of kit preparation contributes to making an incident more serious, then you may be avoidably drawing resources from our medical team and the emergency services at the expense of others.
- Without the kit you will be unable to complete registration. If during the race you are not carrying the mandatory kit then you will be disqualified and deemed to have not completed the challenge.

WATERPROOFS AND BIVVY BAG NOTES
Our kit list includes waterproof trousers and jackets with TAPED SEAMS as a minimum standard.
See photograph of what a taped seam look like below. So you know what our team will be checking. There is also a need for an emergency bivvy bag. Blankets are NOT acceptable as these do not meet the needs of having to survive when injured and immobile on a mountain side in bad weather while waiting for assistance.
​
There is no race pack without showing these items so best not arrive without them. This is non-negotiable. If you do not have these items already, then we have stock of reasonably priced waterproofs and bivvy bags.